SLOW SUICIDE STIMULUS
(featuring Tame One and Dusted Dons)

Announce US Tour w/ El-P, Yak Ballz, and Hangar 18!


"Ever notice how hip hop these days is seriously lacking in banging bass lines that might smash your speakers to shreds?

Slow Suicide Stimulus'

debut album brings back that bumpin' and thumpin' production style, with nasty wordplay provided by underground legend

Tame One

and slammin' up-and-comers the

Dusted Dons

(Govone, C. Chan, and DJ Melski). With serious weight of ill guest shots (including

Grandmaster Caz, Cage, Aesop Rock, Vast Aire, SA Smash, Yak Ballz,

and more) and hot production from

CamuTao, El-P, Mighty Mi, Mondee, and the Stimulus bros.

themselves, this is definitely a must for all

Weathermen, Definitive Jux and Eastern Conference

fans. This shit is mad grimy and dusted, with tons of high-octane raw energy pumping through it- and if you ever get a chance to see these dudes in concert make sure you do that cuz they rip the stage live. Tracks like "Bi-Polar HiRollers", "Akinesia", "Roll Up" and "Smalltown" ensure

SSS's

status as one of the hottest groups of 2006- don't sleep on this one y'all." -

UndergroundHipHop.com



"With just a little more righteous anger, New Jersey collective

Slow Suicide Stimulus

would make a pretty strong bid to become the

Public Enemy

of the post-millennial age. The debut album by the underground quartet led by rappers

Tame One and Dusted Dons

is filled with the kind of heavy beats, layers of samples, and aggressive sound mixing that the

Bomb Squad

perfected back in the day, and the lyrics are politically and socially charged. The difference is that

Slow Suicide Stimulus

has a considerably more cynical, almost fatalistic feel to its lyrics... the primary pleasures of the album are in the exceedingly inventive arrangements and powerful beats underpinning the songs.

Slow Suicide Stimulus

is as musically inventive and exciting as hip-hop got in 2006." ~

All Music Guide





SLOW SUICIDE STIMULUS

is the dysfunctional brainchild of

Tame One & Dusted Dons

(a live hip hop band turned hip hop group featuring C-Chan, Govone & DJ Melski from Hoboken/Morristown, NJ). They can be found on

Cage's

"Hells Winter"

Tour DVD running a muck.

In the year since their self-titled full length release dropped bombs on faces worldwide,

SSS

has been on the road non-stop with the likes of

Cage, Vast Aire (Cannibal Ox), Yak Ballz, XO Skeletons,

among many others. Guest mercenaries include an A-list with the likes of Camu Tao, Cage, Aesop Rock, Vast Aire, EL-P, Yak Ballz, Mighty Mi, Mondee, RAW, Jasper, SA Smash, Face V and the Grand Master Caz.

Watch the video for "Bi-Polar Hi-Rollers" featuring CAGE HERE!

AllHipHop.com feature on SSS - HERE!

TAME ONE will also be presenting his latest "The Grudge - Fuck The Industry" Mixtape out now on Division East Records!




"Tame One displays pure lyrical skill" -

Rapreviews.com



After the untimely demise of the legendary New Jersey rap group

The Artifacts

(1992.-1997), 1980's graffiti icon turned hip hop legend has again risen from the ashes like the fabled phoenix .

After his contract with Atlantic Records subdivision

BigBeatRecords

was up,

Tame One

reappeared a few years later for a short stint on Eastern Conference Records- the then home of supergroup T

he High n Mighty aka DJ Mighty Mi and Mr. Eon, The Weathermen's

founder

Cage Kennylz, YakBallz

, and super producer

Camu Tao

(circa 1999-2006) After appearing on numerous Eastern Conference Records projects (i.e.-

"EASTERN CONFERENCE RECORDS ALL STARS"

volumes 2, 3, 4 and 5,

The Weathermen's

album

"THE CONSPIRACY",

Cage's

"WEATHERPROOF"

EP (The first debut of our collaboration as

"LEAK BROS."

)

Camu Tao

and

Cage's

collaborative concept album

"NIGHTHAWKS",

YakBallz's Definitive Jux

debut

"MY CLAIM"

,

Cannibal Ox's Vast Aire and DJ Mighty Mi's

"BEST DAMNED RAP SHOW"

album.

High & Mighty's

"THE 12TH MAN"

as well as two solo albums(the critically acclaimed

"WHEN RAPPERS ATTACK"

and the purposely underground effort

"O.G. BOBBY JOHNSON"

) both featuring the stellar production of

Boom Skwad's DJ Porno and Camu Tao, J-Zone, DJ Mighty Mi and RJD2

.

As the terms of

Tame One's E.C. RECS

contract came to a close,

Cage Kennylz

defected and changed labels, moving on to

Definitive Jux

, but before leaving, collaborated together under the alias

Leak Brothers

and dropped the underground cult classic album

"WATERWORLD."






After a brief hiatus,

Tame One

returned joining forces with NJ Hip Hop band

The Dusted Don's

(emcees

C-Chan and Govone

along with

DJ Mel-Ski

) to form an entirely different entity now known as

Slow Suicide Stimulus

. The

SSS

full length dropped within a month of Tame One's highly praised, intentionally progressive solo LP

"SPAZMATIC"

on

Ahead Recordings.

(Produced solely by Xing n' Fox) But before any of this had even occurred, the "pre-signed" Tame One created his own musical group, formed from childhood friends and co-collaborators THE BOOM SKWAD (established in 1992.) Among the deep, deep ranks of the multi-talented hip-hop veterans, the inner-circle consisting of

DJ Rhino CMZ, (Hidden Descent) DJ Porno, MCs Jay Burnz Jaya, Kool Melo Max165, SA'D (Parliament/Funkadelic)

, New Jersey graffiti legend

Jero NRG

, and the

former art director of Source Magazine Merge 1

, have banded together out of the collective to continue the evolution of representing every aspect of the hip-hop culture "in-house" and independently (beginning with the limited edition 12' release (

"BOOM SKWAD'S ON ATTACK"

produced by

GRUFFRYNO CMZ

).

Tame One

is revered for his extensive catalogue and multiplicity of labels and artists he works and has worked with. Bringing us to his latest release

"The Grudge"

available now on

Division East Records.

(www.DivisionEast.com). The saga shall and does continue.

SLOW SUICIDE STIMULUS
Tourdates w/ El-P, Yak Ballz, and Hangar 18!
May 1 2007 Middle East Boston, Massachusetts
May 2 2007 Le National Montreal, Quebec
May 3 2007 The Opera House Toronto, Ontario
May 4 2007 The Beachland Ballroom Cleveland, Ohio
May 5 2007 Little Brothers Columbus, Ohio
May 6 2007 The Magic Stick Detroit, Michigan
May 7 2007 Top Cats Cincinnati, Ohio
May 8 2007 the Abbey Pub Chicago, Illinois
May 10 2007 Granada Lawrence, Kansas
May 11 2007 Bluebird Theater Denver, Colorado
May 12 2007 the Depot Salt Lake City, Utah
May 14 2007 Neumo's Seattle, Washington
May 15 2007 Plaza Club Vancouver, British Columbia
May 16 2007 Wonder Ballroom Portland, Oregon
May 18 2007 Great American Music Hall San Francisco, California
May 23 2007 The Clubhouse Tempe, Arizona
May 24 2007 Sunshine Theatre Albuquerque, New Mexico
May 27 2007 Emo's Austin, Texas
May 28 2007 Numbers Nightclub Houston, Texas
May 30 2007 The Parish @ House of Blues New Orleans, Louisiana
Jun 1 2007 The Social Orlando, Florida
Jun 2 2007 Common Grounds Gainesville, Florida
Jun 3 2007 Orpheum Ybor City, Florida
Jun 4 2007 Lenny's Bar and Grill Atlanta, Georgia
Jun 6 2007 Stella Blue Asheville, North Carolina
Jun 7 2007 Cat's Cradle Carrboro, North Carolina
Jun 8 2007 9:30 NightClub Washington, DC, Washington DC
Jun 9 2007 Irving Plaza New York, New York



About Divison East Records:








Division East

began as a skater owned and operated, grassroots skateboard shop in February of 2000.

David Dowd

single handedly ran

Division East Skateshop

day in and day out from 11am-8pm, Monday through Sunday offering a variety of skateboards, accessories, sneakers, clothing, apparell, videos, and an in-store half pipe. Companies ranged from big sellers (

DC Shoes, Nike, Clarks, Puma, Etnies, Vans

, and others) to lesser-known, "underground" companies (

5 Boro, LeRoy Jenkins, LRG, 10 Deep,

etc).






Dowd

ventured into

Division East

t-shirts, hoodies, bags, pants, stickers, and skateboards in the years to come (designed by graffiti artists

Bigfoot, Stay High 151, Tame One, Rime, Chip 7, Kemos, Navy 8, Detox "The Ghetto,"

and others), as well as releasing 2 skate shop videos

"Daggers"

and the New Jersey cult classic

"The Final Countdown"

which featured east coast legends

Andy Bautista, German Nieves, Joe Tookmanian, Kevin Hayden

and many more.

Division East's

3rd, highly anticipated skate shop movie is currently in the works by

Poppills.com's own Justin White

.

Dave Dowd

relocated Division East in early-2005 to a much larger, better situated location on

Bloomfield Avenue in Montclair, NJ

, where it is still revered as the only skateboarder owned and operated shop in New Jersey.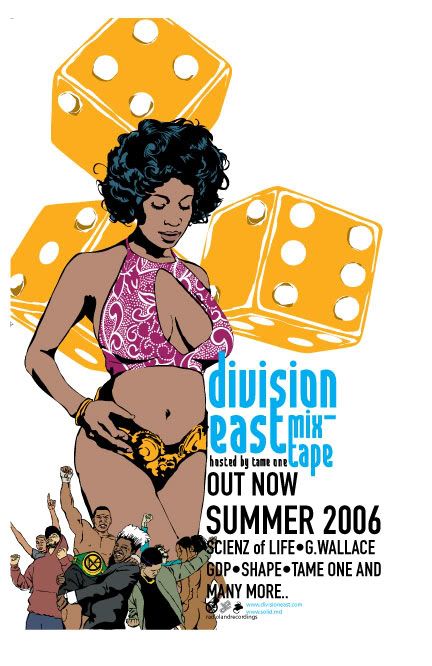 As a life long fan and enthusiast of hip hop and hip hop culture, Dowd began selling spray paint, markers, black books, graffiti magazines, books, toys, movies, and caps out of the store. He collaborated with writers such as

Cope 2, Rime, Tame One, Detox the Ghetto, Stay High 187, Chip7, and Kemos

on various

Division East

products, as well as showcasing and sponsoring graffiti-related art shows.

With the help and advice of some close friends,

Dave Dowd

began getting his feet wet in the hip hop music circuit. He released a

Division East

hooded sweat shirt and t-shirt designed by

Tame One

, and followed shortly after with the

"Division East Summer Mixtape"

hosted by

Tame One,

which featured unreleased music from

Tame One, Scienz of Life, GDP, Shape, G. Wallace, Cymarshall Law,

and many more.

Division East

began sponsoring and promoting various hip shows predominantly throughout the North East and even down the East Coast with acts ranging from

Tame One, Pace Won (Outsidaz), Juggaknots, C-Rayz Walz, Killah Priest, OC,

and many more.

Division East Records

was officially established with the addition of

GDP, Shape, G. Wallace, and Bullymouth

to the roster.

The Division East Winter Mixtape

, mixed and hosted by the legendary

Mr. Len of Company Flow

fame which included music from

El-P, Count Bass D, Tame One, Pace Won, GDP, G. Wallace, Shape, Pumpkinhead, Bullymouth

, and more.

Division East in affiliation with Mr. Len's own Smacks Records

released

Bullymouth's

long-awaited

"Back to School"

LP in late 2006 and is extremely excited to be releasing Tame One's

"The Grudge"

street album,

Shape's

full length

"Raised Near the Power Lines"

and GDP's

"Involvement"

EP this spring and summer 2007.

Division East

has become so many things to so many different people that it is no longer just a store, a clothing company, a record label, a show promoter, or a skateboard company; it is a movement. A refreshingly genuine movement, composed of friends helping friends, that is gaining momentum by the day, with a recently launched online store, monthly hip hop showcases throughout the Tri-State Area, and plans for the future that you will have to see to believe. And you will.

For more information, visit:
www.myspace.com/slowsuicidestimulus
myspace.com/tameoneboomskwad
www.divisioneast.com
www.divisioneast.blogspot.com
www.myspace.com/divisioneastrecords
www.myspace.com/flospotrecords