Philadelphia's CLOCKCLEANER Kick Off U.S. Tour w/ Times New Viking * Make Stops @ Annual SXSW Music Festival * Announce Fall Album on Load Records!


"Clockcleaner plays relentless noise-rock dirges with no room for air and a chest-thumping dynamic, as dissonance splinters off of the heavy delay/reverb processing like broken glass from a shattered picture window." -

Dustedmagazine.com



"Sharkey's vocals are clearly from the mewling, ranting, staggering School of David Yow." -

Decibel Magazine



"Clockcleaner's affront is equal parts Butthole Surferania irreverent punk and big-bore Rapeman noise delivered with in-the-red abandon." - Baltimore City Paper

Pummeling drums, drooling vocals and diamond-toothed chainsaw guitar all come together in an ugly display of volatile rock 'n' roll that equally brings to mind old Chicago noise-rock, highway construction work, brutal hangovers and, well, Flipper (remember them? They were sick!).

- Erik Bader, Philadelphia Weekly



Introducing your new favorite punk rock band kiddies. Philadelphia's

CLOCKCLEANER

, who are, "basically not allowed to play in Philly," perform 70's inspired sci-fi punk not-unlike skull pummeling artists

No Trend or Bauhaus.





Led by ex-Nine Shocks Terror member John Sharkey

on guitar and vocals (who, after a bad car wreck had amnesia throughout the recording of their last record,

"Nevermind"

), Karen Horner (formerly of the band

Green Apple Quickstep

) on bass, who proclaims "Philadelphia is made of pussies," and drummer Richie Penetrator who, prior to the band, modeled footwear for Fila and various department stores to get a paycheck,

CLOCKCLEANER'S

live show is something like being awake during a Nightmare on Elm Street dream, while simultaniously experiencing epileptic seizures as those blade-ridden gloves find their way into your various orafices (see also

Birthday Party

).






Watch the live video of "Missing Dick" HERE





CLOCKCLEANER'S

albums are something of collectors items, and on February 20th, the band released their second 7" single,

"Frogrammer,"

a pre-cursor to the band's upcoming second full length

"Babylon Rules"

due out this September on Load Records (Lightning Bolt, USA is A Monster). Featuring the song

"Vomiting Mirrors"

which is currently streaming on the band's Myspace page, the album is a dark and twisted look into the human psyche.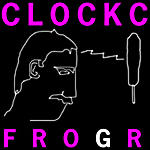 CLOCKCLEANER Live w/ Times New Viking:


Mar 8 2007 the Tower w/ TNV + Homostupids + Sun God Cleveland, Ohio
Mar 9 2007 Permanent Records w/ TNV Chicago, Illinois
Mar 10 2007 Downtown Records w/ TNV Lafayette, Indiana
Mar 11 2007 The Ground Floor w/ TNV Belleville, Illinois
Mar 12 2007 Valhalla Gallery w/ TNV Kansas City, Missouri
Mar 14 2007 J & J Pizza w/ TNV + Marked Men and a ton of others Denton, Texas
Mar 16, 2007 SXSW - Vice Saves Texas Austin, TX
Mar 16 2007 Time Out NY SXSW showcase w/ TNV + PEACHES @ EXODUS Austin, Texas
Mar 17 2007 Sound on Sound w/ TNV + Marked Men + Iron Age Austin, Texas
Mar 17 2007 SXSW - Solid PR Party @ Creekside Lounge w/ Daughters, Totimoshi, Birds of Avalon, and more
Mar 18 2007 Circle Bar w/ TNV + Iron Age New Orleans, Louisiana
Mar 20 2007 Cellblock w/ TNV Mobile, Alabama
Mar 21 2007 Murphy's w/ TNV + Evil Army Memphis, Tennessee
Mar 22 2007 The Funhouse w/ TNV Nashville, Tennessee
Mar 23 2007 Rudyard Kipling's w/TNV Louisville, Kentucky
Mar 24 2007 Carnegie Mellon University w/ TNV Pittsburgh, Pennsylvania
Apr 15 2007 Johnny Brenda's w/ Out with a Bang + Vicious Philadelphia, Pennsylvania

for more information, visit:
www.clockcleaner.net
www.myspace.com/clockcleaner
www.terminal-boredom.com/clockcleaner.html