huge thanks to Carlos and the entire Gaunlet.com staff!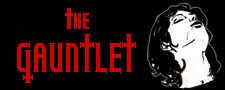 Gridlink Interview
If you have followed Grindcore in the last fifteen years, you're probably already familiar with the work of
Jon Chang.
The New Jersey native fronted the sorely-missed
Discordance Axis,
which also included blast beat god
Dave Witte (Municipal Waste
among others) on drums. Chang's high-pitched screams and blood-curling growls spawned a scene of copy-cats. If it weren't for
Discordance Axis,
its doubtful bands like
Pig Destroyer
would sound the way they do. The New Jersey based front man is currently fronting
GridLink,
a band that will surely appeal to old-school Grind and Power Violence fans and to more, forward-thinking Metal listeners. The Gauntlet recently caught up with the busy singer to talk about the new band, his history in Grindcore, and why
Anal Cunt's Seth Putnam
wrote a song about him.
(((click to read full interview here!)))